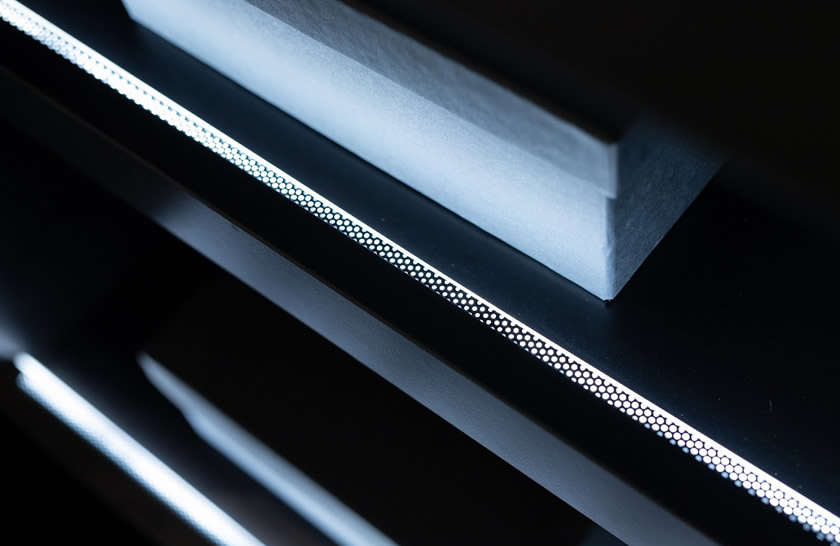 03 Jul

The Applications of aluminum LED profiles in Interior Design

LED profiles are aluminum components used for installing LED strips and represent an aesthetic and functional solution. They are aluminum bars for LED lighting that offer an impressive light diffusion through the micro-perforated profile screen and body. They have an impact even when the light is off, thanks to their valuable anodized and pre-painted finishes, becoming a precious detail that enriches the surfaces on which they are installed with contrasts of fullness and emptiness.


The aluminum profiles for LED strips from the WINDLIGHT collection are unique and innovative, available in vibrant finishes that meet any interior design needs, including the trends that emphasize sustainability and customization as two increasingly prevalent guidelines. In fact, these solutions are made of aluminum, a highly sustainable material, and can easily be combined with other decorative elements produced by us.
The 5 advantages of aluminium profiles for led strip lights
1. Heat dissipation: Aluminum is an excellent heat conductor, so these profiles help dissipate the heat generated by the LEDs, reducing the risk of overheating and prolonging the lifespan of the LED strips.
2. Protection of LED strips: Aluminum bars provide physical protection for LEDs against impacts, dust, and moisture, helping to preserve their integrity and ensure greater durability over time.
3. Light diffusion: The profiles help evenly distribute the light emitted by the LED strips, reducing the "spotlight effect" and creating more uniform lighting.
4. Aesthetics: Aluminum LED bars offer an aesthetically pleasing solution, hiding the wires and providing a clean and professional finish that adds a touch of modernity.
5. Ease of installation: LED bars are simple and quick to install on any surface.
The applications of aluminum LED profiles
Aluminium LED bars can enhance furniture such as shelves, cabinets, hoods, sink units, and mirrors. With a simple lighting design project, remarkable results can be achieved without the need for a lighting designer.
LEDs are known for their energy efficiency, durability, reliability, ease of installation, and control of light intensity, and our micro-perforated lighting strips can be inserted into:
• Modular shelves and bookcases, creating a backlighting effect to create a bright area and organize different sections of the shelf or highlight specific objects. This helps maintain an orderly and well-organized shelf.
• Cabinets and wardrobes, providing innovative and elegant illumination to carefully choose daily outfits.
• Kitchen hoods or under-sink areas, improving visibility during food preparation or cleaning.
• Mirrors for increased functionality and convenience: they provide uniform and direct light on the face during preparation or makeup application. This type of lighting improves visibility of details, allowing for better makeup application or skincare.
WINDLIGHT: Customization and Flexibility
The aluminum profile for LED we offer can be cut and installed in various configurations to adapt to the specific needs of each project.
They are available in nine finishes to suit different applications and installation requirements. The E1 model includes micro-perforated LED profiles on one side or with micro-perforation on three sides in the WIND version. Our catalog also includes the E2 model, a 45° LED profile that can be recessed in a corner. The R1 model is a finely crafted combination of aluminum, color, and light: in addition to the classic recessed LED profile, there is the WIND version with micro-perforation on three sides. The M1 model is a smaller recessed profile with a more refined and minimalist shape while maintaining the same performance as larger profiles. It also has the micro-perforated WIND variant.
If necessary, our technicians can customize and assemble all individual parts, profiles, and screens, adding LED coils, controllers, and power supplies according to specific requirements and needs. The aluminum led strip can be equipped with our certified LED