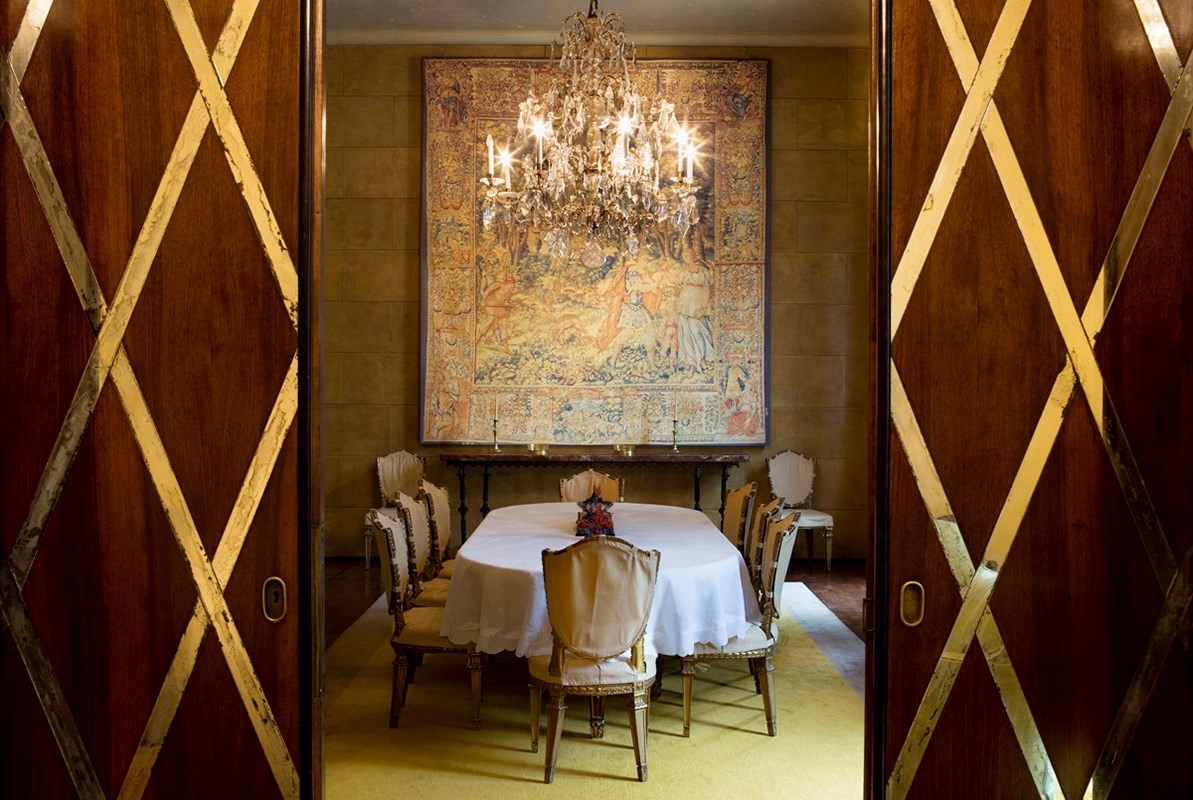 02 Avr

Cool design doors

We found plenty at  Villa Necchi Campiglio in Milan, Italy

The Villa Necchi Campiglio is a wonderfully accomplished and luxurious example of Italian architecture of the inter-war period.

When Piero Portaluppi designed The Villa in Milan between 1932 and 1935, he was already a well-known professional accepted and appreciated within the ranks of wealthy industrial Lombard society. It was precisely here just a short walk from Piazza San Babila, that the architect demonstrated an exceptional openness to modernity, leaving the decorative style of the previous years in order to embrace the emerging rationalism movement.

The high standard of living of the owners who were well-known as a result of the production of sewing machines, can already be seen in the garden, large enough to accommodate both a tennis court and a swimming pool. Inside, in the rooms it is the quality of the materials that reflects the wealth of the owners, as demonstrated by rosewood paneling, brass fittings and nickel silver inlays on the doors. The furnishings specifically designed by Guglielmo Ulrich also appear sophisticated and well cared-for and are partly still in place.

Are you interested in visiting Villa Necchi Campiglio?
Check visitor information here: https://www.fondoambiente.it/villa-necchi-campiglio-eng/

Decorative Profiles for Interior Doors: Focus On Details

If the styling in your house/office seems to be lacking in some way and needs just the thing to create a finished look, that aluminium profile might be the answer.

FBSProfilati provides a wide range of decorative profiles, specifically designed to brighten interior doors and home/office-furniture.

Fancy recreate Portaluppi  design? Here you can find the right products… link a bandelle

Doors are no longer just functional elements in a house , they are precious and trendy with minimalist inserts and perfectly match the surrounding living space and furniture components.  These products, consisting of PVC or aluminium, are well appreciated for their high quality and can be manufactured in different colors and with different finishings. Furthermore, they can either be inserted or glued on surfaces with a pre-applied self-adhesive tape.

An example of sliding door enhanced by the aluminium profile in chrome finishing:
Piero Portaluppi
Piero Portaluppi was born in Milan on March 19, 1888 to Luisa Gadda and Oreste, a construction engineer. In 1905, he obtained his school-leaving certificate from the Carlo Cattaneo Technical High School and subsequently enrolled at the Polytechnic University of Turin.
In September 1910, he graduated in architecture and was awarded the gold medal prize, which the Association of Engineers and Architects of Milan used to award to the best graduate of the Polytechnic. The following year he was appointed "associate lecturer appointed by the University Management Committee" linked to the course held by Gaetano Moretti and he thus began his academic career. At the same time, he established his own architectural practice.
If you want to know more about Architect Portaluppi see:
http://www.portaluppi.org/en/piero-portaluppi/biography/
The library of Milan's Villa Necchi Campiglio. Photo by Arena Immagini © FAI — Fondo Ambiente Italiano