27 Juin

TOP 8 KITCHEN DESIGN TRENDS FOR 2019

It's all about refreshing your cooking space.

Planning your dream kitchen? Whether your current kitchen layout needs renovating or you simply want to refresh a tired colour scheme, now is the perfect time to create the kitchen of your dreams. But what's cool in the world of kitchen design?

As the hub of all activity, the kitchen is evolving to make living and cooking as efficient as possible while looking aesthetically impressive. Matt Phillips, head of UK operations at Rotpunkt, believes furniture will be'defined by difference' with a mix of standout finishes and materials to identify different pieces of furniture and to create zonal kitchen schemes that are not restricted by four walls or customary layouts.

Meanwhile, the experts at Cosentino talk about the idea of the 'anti-kitchen'. The kitchen is still a space to love and cherish, but one that can be easily hidden away so as not to impose on a luxurious living area.

So with this in mind, here are some of the biggest and emerging trends for the year that will help you plan your dream kitchen.

The Trendiest Kitchen Colors for 2019 Are Definitely Not What We Were Expecting:  https://www.coastalliving.com/homes/decorating/2019-kitchen-trend-colors
CLEVER, CONCEALED STORAGE
There's a trend in concealing key technology pieces such as induction hobs, coffee machines, smart appliances and food gadgetry. This even extends to moveable work-surfaces, pull down units for unreachable spaces, hidden wall panels and retractable doors.
Tambour doors and hidden drawers are not just extremely versatile in enabling you to discreetly tuck away a huge variety of appliances, even complete utility rooms, larders and wine cabinets, but also maximises every available space,' explain the team at Chamber Furniture.
'I believe technology will inevitably play a key role in the future of kitchen design,' says Daniele Brutto, co-founder of Hub Kitchens. 'For example, TM Italia currently has a kitchen that is controlled via a desktop application, so the tap rises and falls at the click of a button, the sink lid opens and closes on demand and the fridge doors can be opened without even touching the door. I'm sure this type of software technology will be the future for kitchen designs to coincide with the evolution of modern lifestyles.'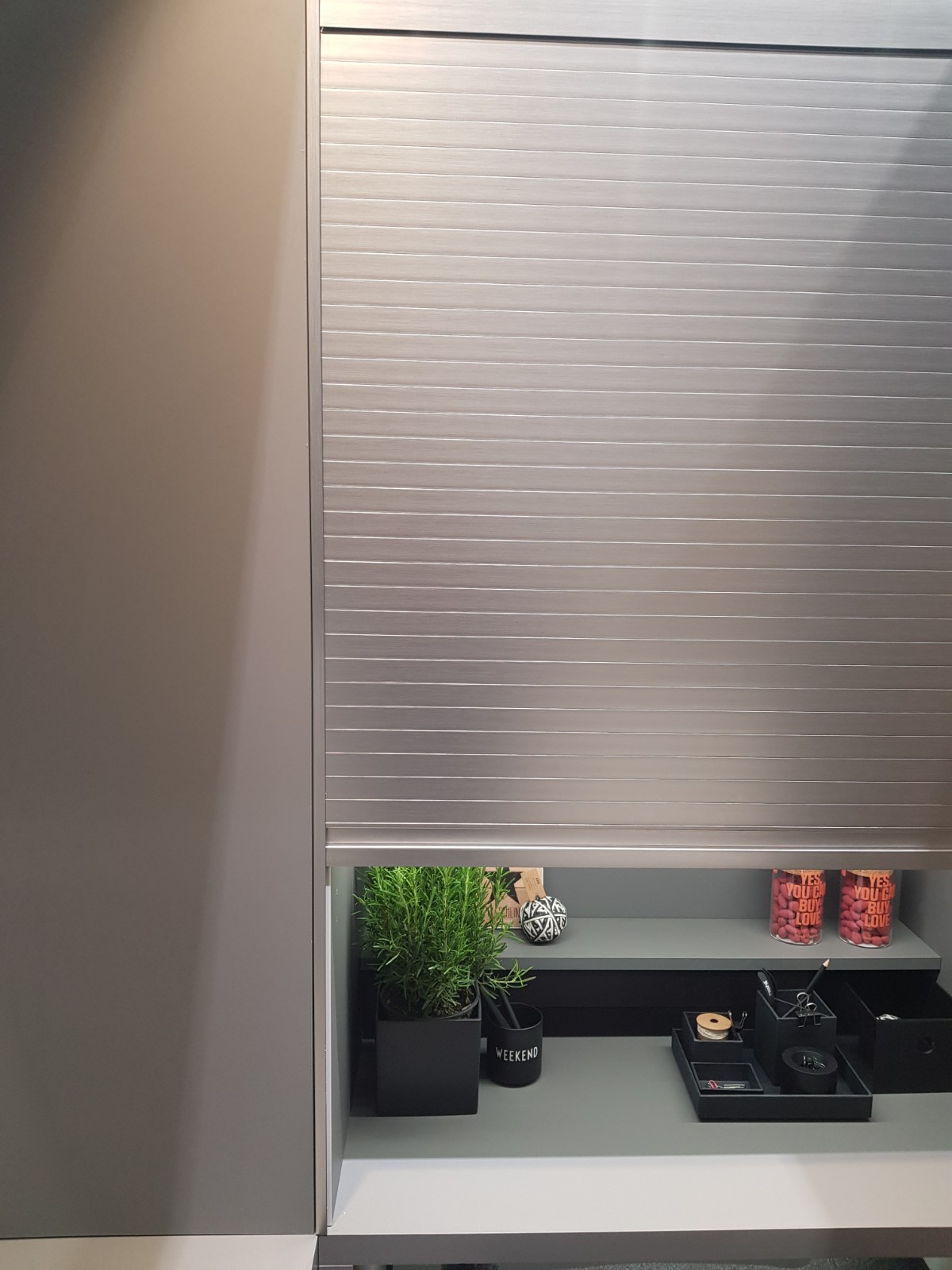 Coloured CABINETRY
Many people are beginning to incorporate coloured cabinets in kitchens while moving away from all white cabinetry. Making a statement and creating a mood with cabinetry, like using deeper grey-washed blues and greens in high demand. These are being beautifully paired with fixtures and hardware in brass and other contrasting metals.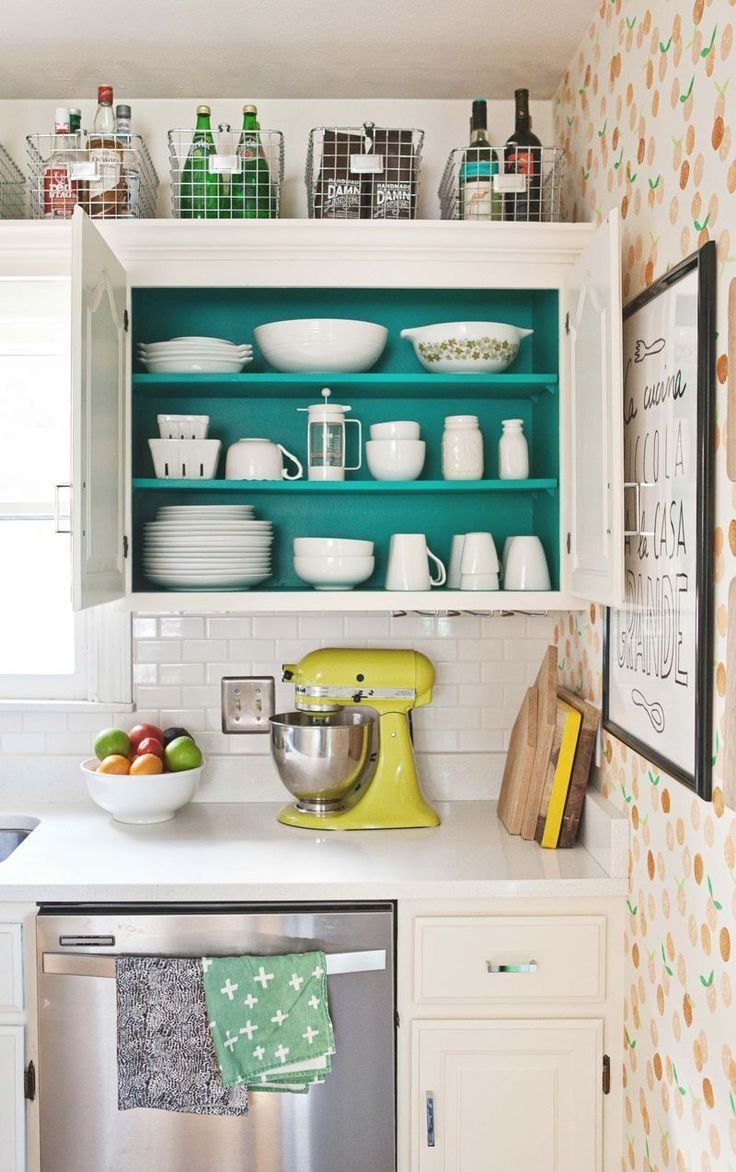 SOPHISTICATED IN ANTHRACITE
It has been reported a sharp increase in orders of anthracite kitchens, reflecting the trend for using darker colours in the home, and Matt at Rotpunkt notes that searches for black and dark colours are up 93% in the last six months.
'2019 interior colour trends will embrace the darker colour palette, showing fewer primary colours and a greater emphasis on black and anthracite which is contrasted by rich coffee browns, shades of grey, taupe and biscuit beige,' Matt explains.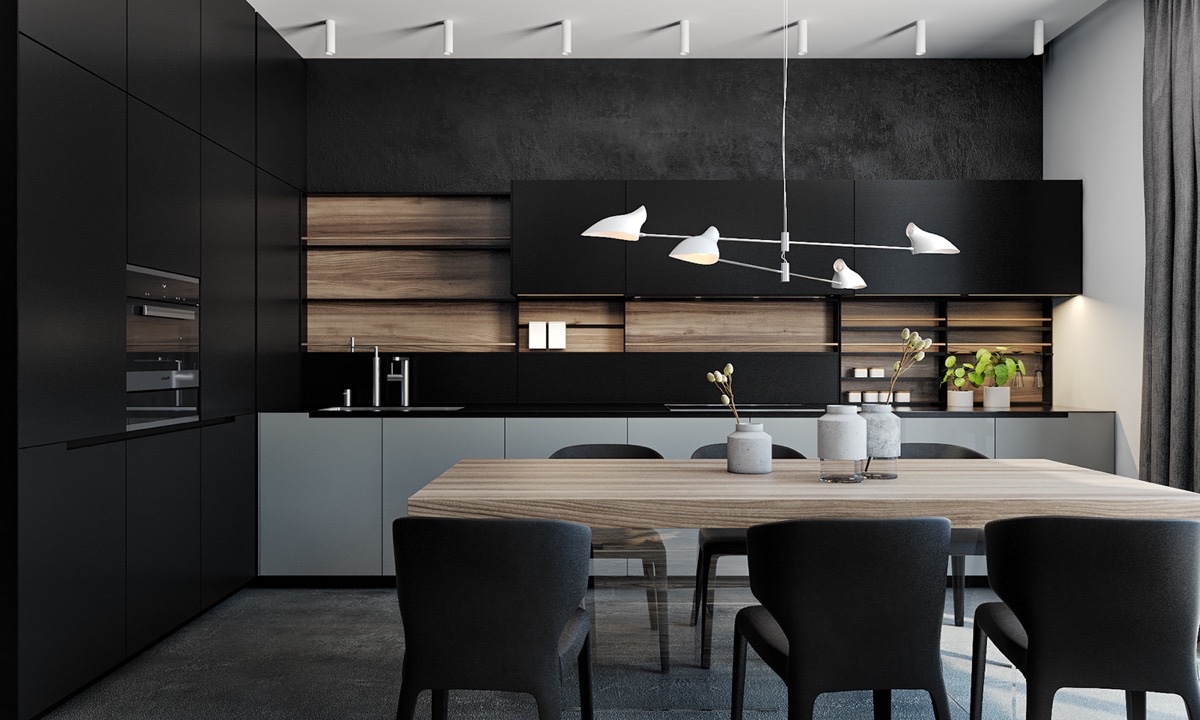 BESPOKE STORAGE
Ceiling height cupboards and tall units with overhead cabinets offering reams of additional storage are a big trend, says Andy Briggs, interior designer at Optiplan Kitchens.
'Multifunctional and hidden storage will be an essential feature for both compact and large kitchen in the coming year and the demand for bespoke storage is expected to rise,' says Joanne Emery, marketing manager at Burbidge.
REEDED GLASS CABINETS
Open shelving and glass-fronted cabinets allow homeowners to showcase their personalities with displays of quirky objet d'art.
'Reeded glass will be everywhere this year,' reveal Papilio. 'This finish adds a wonderful layer of texture to space, a great tool for the kitchen to mix up all those straight lines and smooth surfaces. The reeded effect works well with natural materials. Plus the glass is semi-opaque so you reveal a glimpse, not the entire contents beyond.'
Joanne at Burbidge also speaks of 'pretty and practical glass fronted dressers and cabinets' making headway in kitchen design. 'These stylish solutions allow decorative items and crockery to be beautifully displayed behind glass; adding a visual and personal touch to a contemporary kitchen,' she adds.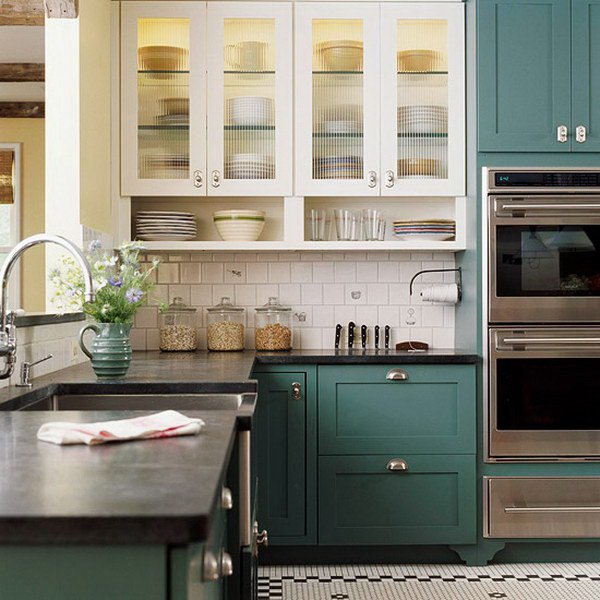 SINGLE-SLAB SPLASHBACKS
Splashbacks are no longer resigned to just being practical elements – now, designers are using them to create real focal points in the kitchen.
Similar to how you would paint or wallpaper a section to create a feature wall in your living room, Cosentino predicts a growing demand for single slab splashbacks as opposed to standard tiling in the kitchen. Elegant and simple, a single slab is not only stunning but 'offers practical cleaning benefits as grouting between tiles can be difficult to keep clean'.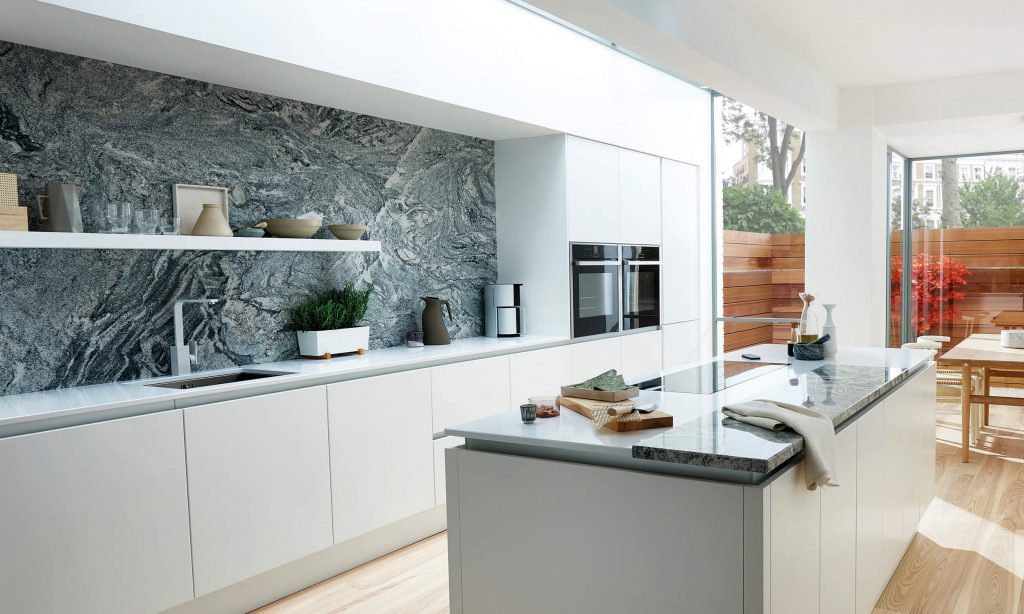 SUSTAINABILITY
Developments in design and an increased focus on sustainability means the need for quality furniture that is environmentally friendly remains a priority for many, and Matt at Rotpunktsays we'll be seeing durable materials and designs continue to grow in popularity.
For Ikea, Bold Sustainability is a trend that celebrates bold and striking environmentally-friendly interiors, highlighting how sustainable living can still allow for personal expression with standout designs that use recycled or reclaimed materials.
SLEEK MINIMALISM
Sleek, minimalist, streamlined and pared-back are buzzwords to look out for because of this year space, clean lines and long stretches of uncluttered surface is a key, desired look.
'One of the most enduring kitchen trends this year which we predict to extend long into 2019 is the uncluttered streamline industrial style,' says Chamber Furniture. 'The timeless appeal of pared-back and seamless uncluttered working areas will continue to be in vogue with each kitchen proving to be as practical as aesthetically pleasing.'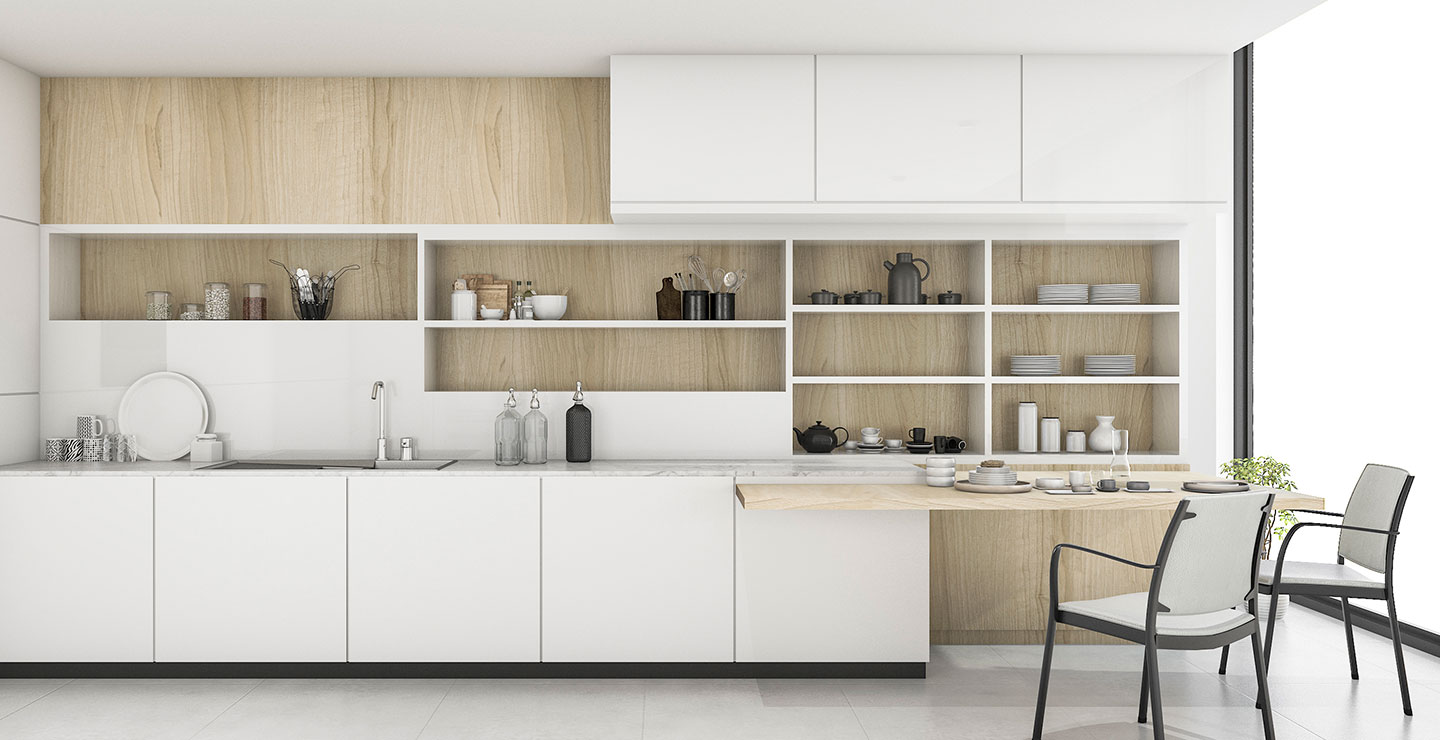 discover more kitchen trends at https://www.cannibalnyc.com/kitchen-trends/