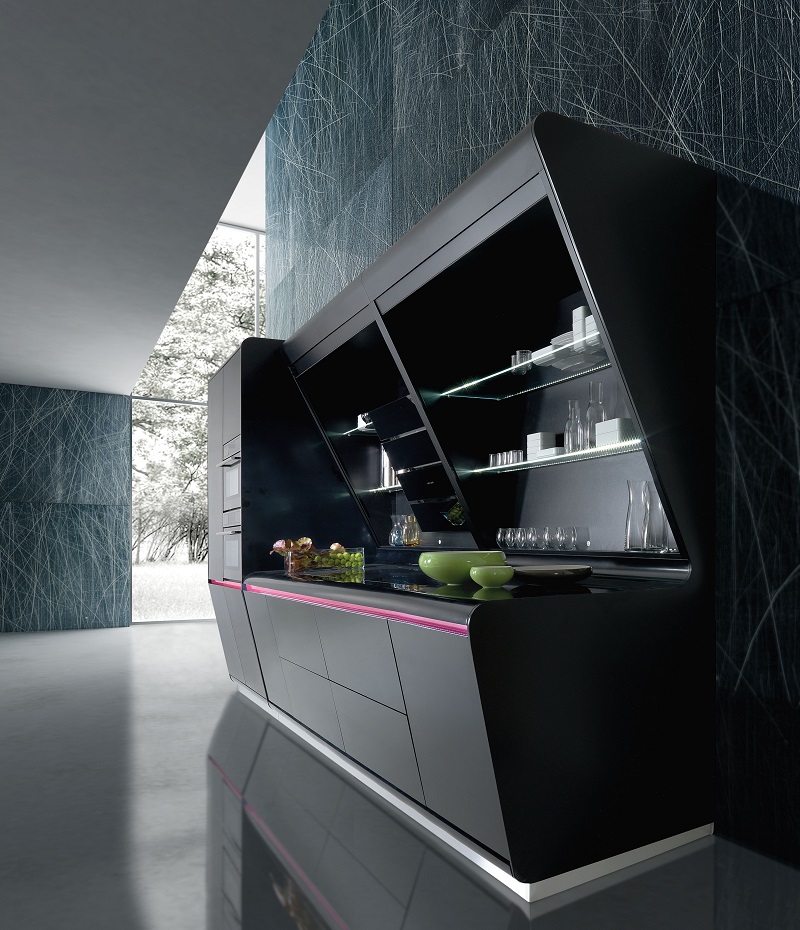 10 Jun

Futuristic kitchen design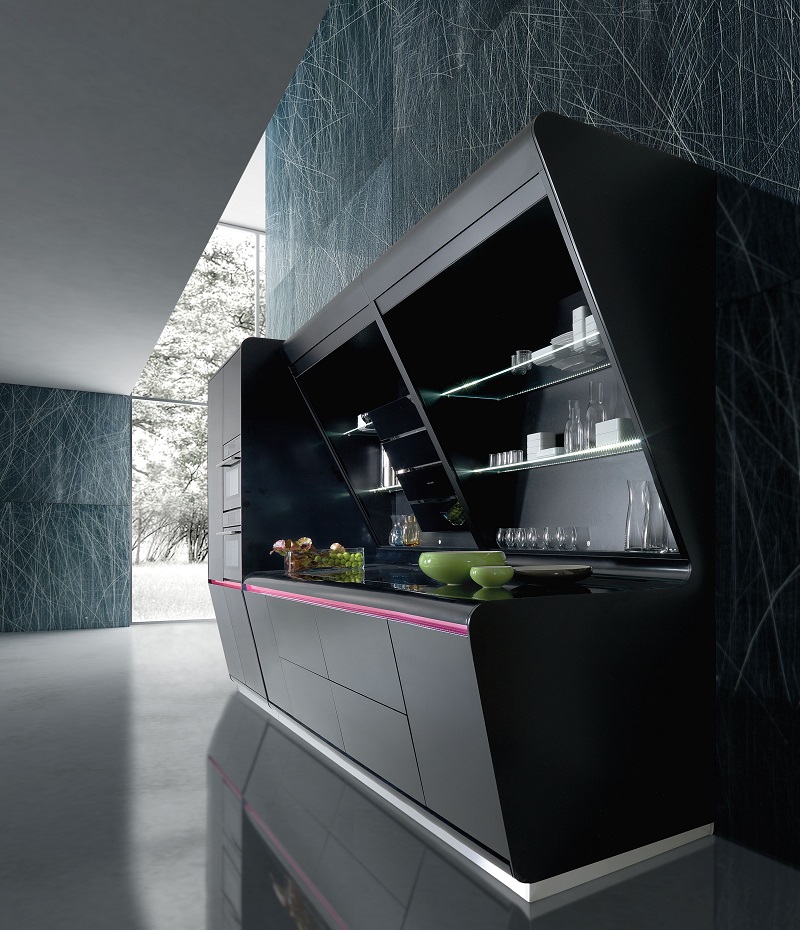 Functional and cool design by Karim Rashid
Karim Rashid is one of the most prolific designers of his generation. Over 3000 designs in production, over 300 awards and working in over 40 countries attest to Karim's legend of design.
Karim Rashid, Egyptian, is an industrial designer. Karim's touch expands beyond product to interiors such as the Morimoto restaurant, Philadelphia; Semiramis hotel, Athens; nhow hotel, Berlin; Università Metro Station, Naples as well as exhibition design for Deutsche Bank and Audi. Karim's work is featured in 20 permanent collections and he exhibits art in galleries worldwide.
He is a frequent guest lecturer at universities and conferences globally disseminating the importance of design in everyday life. He holds Honorary Doctorates from the OCAD, Toronto and Corcoran College of Art & Design, Washington. Karim has been featured in magazines and books including Time, Vogue, Esquire, GQ, Wallpaper, and countless more.
"FOR THE LONGEST TIME DESIGN ONLY EXISTED FOR THE ELITE AND FOR A SMALL INSULAR CULTURE. I HAVE WORKED HARD FOR THE LAST 20 YEARS TRYING TO MAKE DESIGN A PUBLIC SUBJECT."
Want to see Karim Rashid's masterpieces? http://www.karimrashid.com/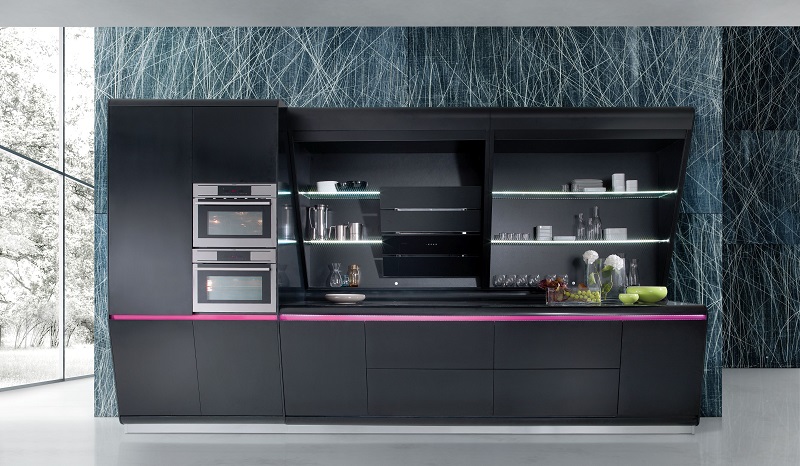 Karim Rashid: Functional Design for Rastelli
The unique style of Karim Rashid distinguishes the Kook model, by Rastelli, a monobloc kitchen that can be combined with side columns and display cabinets.
Thanks to Kook, the Egyptian designer has achieved another success, with a kitchen that is both futuristic and functional, certainly with expressive impact, but also created with the utmost attention to ergonomics. Kook made its way into the circuits of international markets and today it is a complete product, able to «survive trends», as Rashid himself explains.
From your point of view, what features should a cooking zone have and what design criteria should be used?
In my kitchens I pursue a minimalist approach, favouring essential surfaces with a strong visual impact, emphasized by shots of bright colour.
Kitchen furniture does not have a large turnover, compared, for example, to mobile phones or some accessories. As a result, it is always better to go for a well thought-out and ergonomic design that will survive the latest trends.
What is the concept on which Kook is based and how is the cooking zone organized in this project?
For the Kook kitchen, I aimed at an innovative design to transform even the most demanding culinary challenge into pure aesthetic pleasure.
As the cupboard opens, it offers a wide view of all that is available and, when closed, it makes the kitchen minimal and tidy.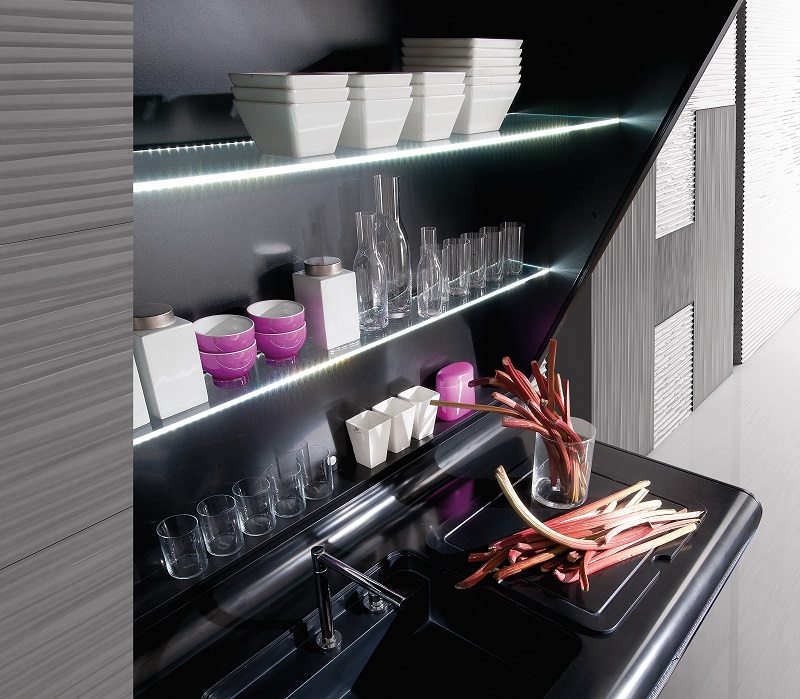 Great attention is paid to the principles of neatness and cleanliness, fundamental rules in the kitchen, which in Kook's design immediately stand out: the worktop includes motorised shutters which, once opened, show an integrated hood and a series of glass shelves enlightened by LED lights. The inclination of the upper part of the cabinet is designed to encourage the storage of larger accessories at the top and those that are less bulky or more frequently used at the bottom, making the time of cooking a moment of relaxation.
The lower part of the cabinet, with pressure opening, is highlighted by strips of coloured LEDs.
Lastly, Kook offers a sink that can be hidden by covering it with a cutting/tray in the same finish, to create a seamless surface.
How important is technology in Kook's concept and what elements communicate it?
Technology applications in the house, especially in the bathroom and the kitchen, are rapidly evolving. In my opinion, the most outstanding of all the innovations, from sensors to LEDs, are the touch controls. Unfortunately, as far as shapes and uses are concerned, I think that the design of the kitchen sector gives too little importance to the ergonomic feature, to the point that styles, shapes and materials outweigh functionality, practicality and usage. With kook, I used the opposite concept.
Are you into futuristic kitchens? Here are 20 gadgets you shouldn't be missing out:https://www.homedit.com/20-futuristic-kitchen-gadgets-for-a-smart-cooking-experience/