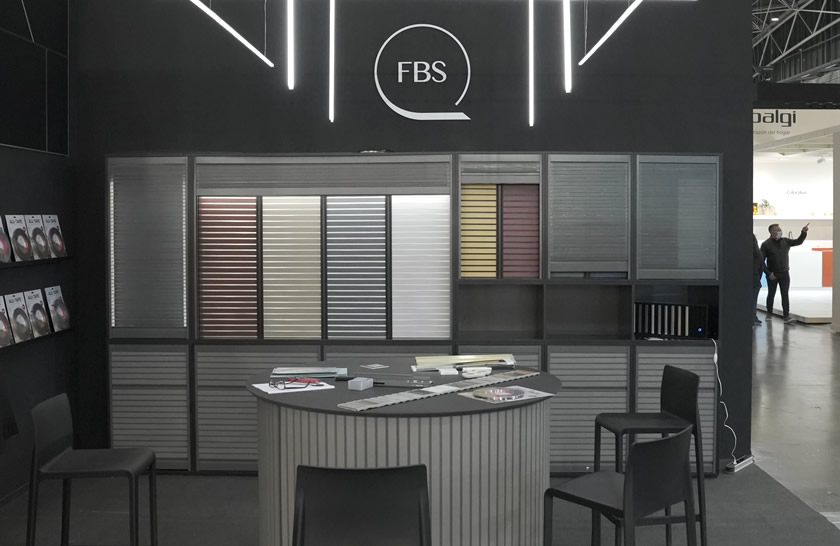 19 Apr

Soft Collection at Maderalia's Fair

FBS Profilati took part in Maderalia, the International Fair of Materials, technology and components for furniture and interior design projects. This is the 39th edition and took place from 29 March to 1 April 2022 in Valencia. We thought of a low turnout expectation, but it was more than satisfactory: more than 90 new contacts in just 4 days. Obviously, the FBS staff has enjoyed meeting both old and new clients.

For the first time in Spain, on the occasion of the fair, FBS Profilati presented the seven new colors of the Soft Collection. These colors were the protagonists of the stand and aroused a lot of interest in the Spanish, Portuguese and North African public. The stand, mainly in a dark palette, allowed the colors of the elegant and functional roller shutter line to be highlighted.

The stand was slightly illuminated by six aluminum led holder profiles: FBS Profilati proposed it in an unusual way, that is to hang it to create a shape similar to a cube. There was also a composition of ten pieces of furniture arranged in two rows of ten, one of which is motorized and five with a double bottom made up of fixed carpets that present the Soft Collection line.

The counter deserves a mention, a cylindrical figure made 100% of Fenix Nero Ingo with a reinterpretation of the use of the horizontal shutter: this time two carpets ran along the entire perimeter of the counter in a specular way to allow the storage of trade fair material. The shutters were the same color as the furniture: anthracite-colored aluminum slats covered with a Fenix gray.

No detail has been left to chance: this is the FBS Profilati'way that characterizes the company's choices and makes it one of the leading companies in the production of accessories and components for the furniture and double glazing industry.
Also in this event FBS Profilati successfully raised the flag of Made in Italy in the world.