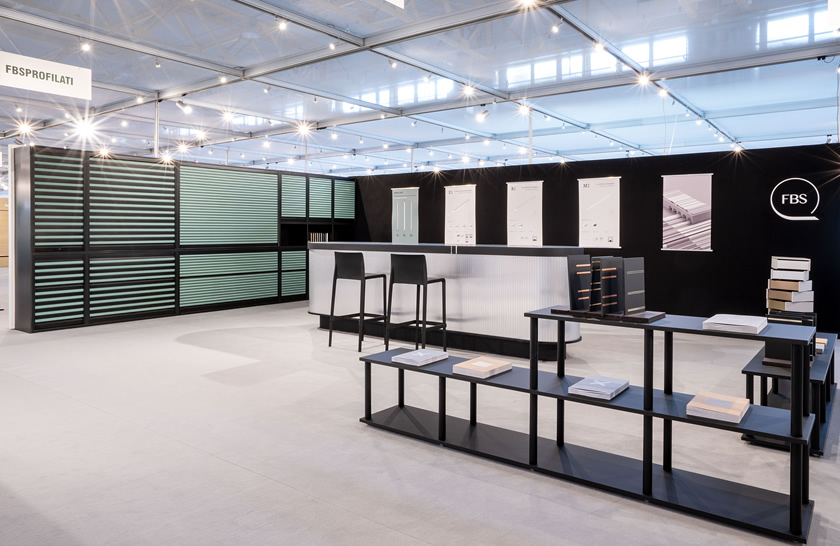 28 Oct

Sicam Exhibition, great success for our decorative aluminium profiles

After the pandemic year, the pavilions of the Pordenone Fair reopen their doors to host the twelfth edition of the International Exhibition of Components, Semi-finished Products and Accessories for the Furniture Industry from 12th to 15th October 2021. As in previous editions, and against the expectations of many, the first post-Covid trade fair in attendance met (and actually exceeded) expectations in terms of turnout: more than 540 exhibitors from no less than 28 countries occupied the aisles of the Fair. Once again, FBS Profilati did not disappoint those who come to SICAM to find decorative aluminium profiles presented by helpful and competent personnel.

As usual, this year's stand was a project realised together with the company's artistic director: Gio Tirotto. The focus of this collaboration perfectly combines technicality and design, the two cornerstones of SICAM. For the artistic director, the translation of these two concepts has been realised in four main articulations, practically one for each product category.
At first glance the eye fell on an elegant and spacious elliptical counter covered with about two hundred aluminium slats in the classic colour of the material, almost one metre high.
This not only recalls the slats used for the company's iconic sliding shutters but represents the sustainability and versatility of aluminium, a material found in all FBS products.
Next, a six-metre-long piece of furniture covered an entire wall of 12 roller shutters.

FBS took the opportunity to present a new shutter concept: the Soft Sollection line. This is an aluminium composition with an insert of coloured strips in Fenix by Arpa. At SICAM the covering of the slats was the unusual green brac colour of the Blom collection which alternated from time to time with solid or micro-perforated aluminium slats, thus allowing a play of light with the internal lighting of the cabinet hosting them. The other wall was covered with a dark cloth that absorbed the light and highlighted four posters illustrating the technical aspects of the LED holder profiles with aluminium screen, a novelty in the sector that attracted the attention of anyone passing by the stand. These were strictly framed by two aluminium profiles in the same colour as the counter. Lastly, a black corner cabinet with two shelves (also in Fenix) where the catalogues and samples of the Alumix line of decorative inserts rested. In short, the SICAM stand was nothing less than a complex of structures, shapes, colours and textures that made the FBS visit to Pordenone a real success.